Telephone: 01520 722212 | Email: joy@lochcarron.com
Temporary Closure of the Lochcarron Weavers Shop to the public
However we are still able to take orders by telephone and by email. We will be picking these orders up and ensuring that they are safely despatched out to you.
We have taken this decision, in the interest of the safety of our staff and customers to temporarily close the Weavers Shop to the public. We will of course keep you advised when we are able to open the shop to the public and we look forward to welcoming you all back when it is safe to do so.
In the meantime, keep safe and well, our thoughts are with you all.
Situated on the banks of picturesque Loch Carron in Wester Ross, Lochcarron Weavers has to boast one of the most scenic locations for a shop! And when you step inside our quintessentially Scottish store you will find a wonderful range of tartans, luxury knitwear, kilts, tweed clothing all complemented beautifully with just the right accessories. You can buy these top quality Scottish products in the finest natural fibres including cashmere, lamora, mohair and lambswool.
We look forward to welcoming you here in Lochcarron very soon.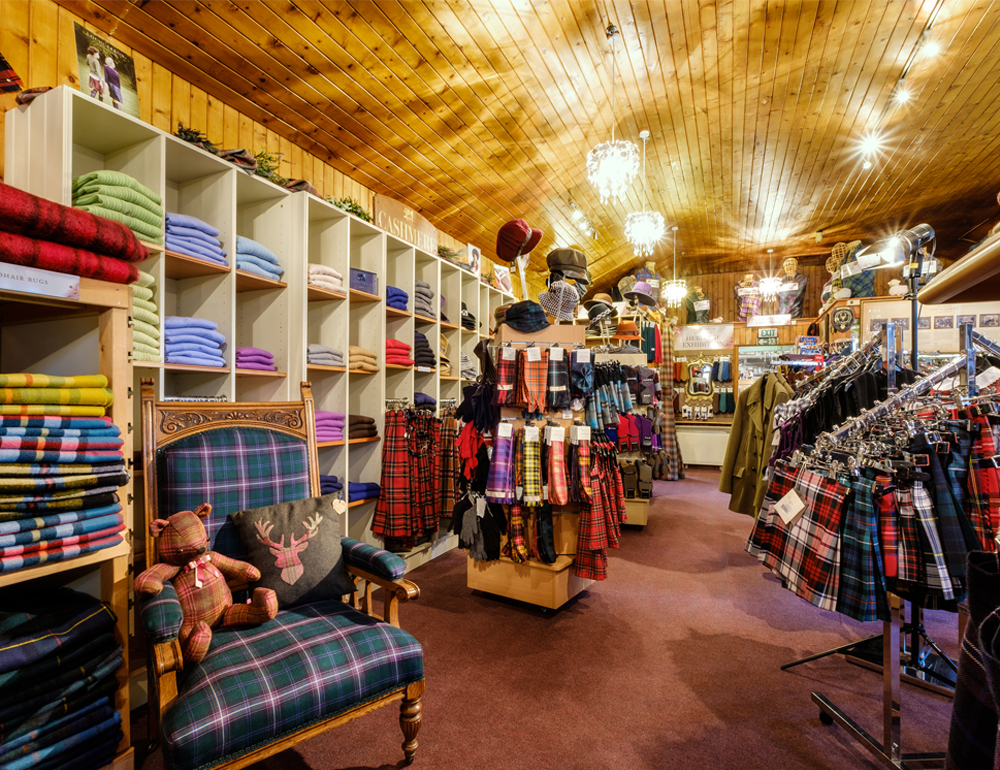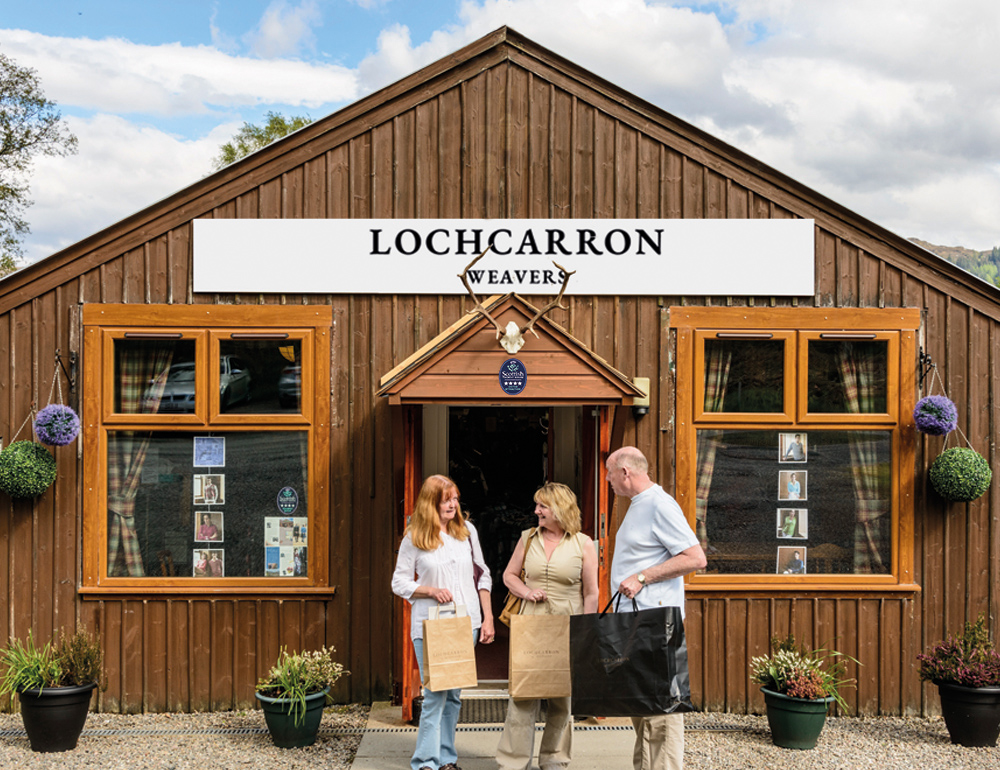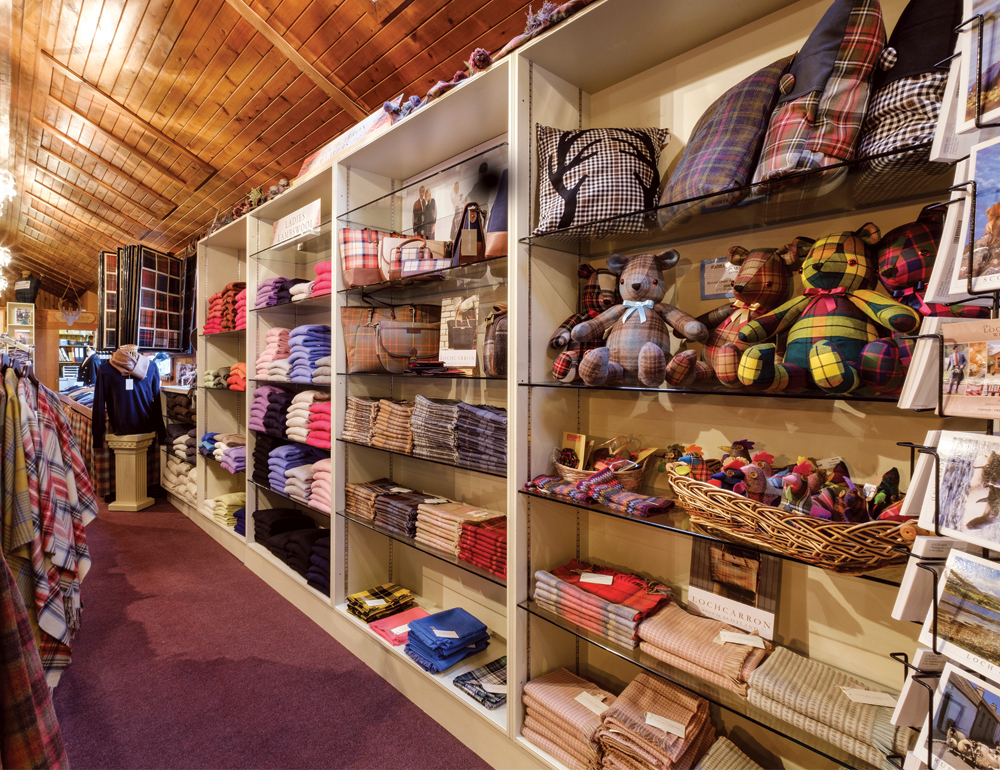 HIGHLAND WEAR - Tailor made
If you are looking to buy Highland Wear then look no further, Lochcarron of Scotland produce the finest quality premium heavy weight kilts and highland wear on the market.
And you will be in very good company as we have kilted numerous celebrities and VIP's over the years as well as manufactured tartan for clans and societies and the world's top fashion houses.
As the world's leading manufacturer of tartan we have over 700 authentic Scottish tartans available to you, all woven at our Selkirk mill. From this extensive portfolio of fabrics we can offer everything from bespoke handmade kilts and highland dress, through to made to measure tailored skirts, trews and a full range of accessories including tartan ties, jackets, sporrans, belts, buckles, socks, flashes, crested cufflinks and sgian dubh's.
WHERE IT ALL BEGAN
The story of weaving in Lochcarron started back in 1938 when Mr Wood was sent from Galashiels, in the Scottish Borders from the home of the company. He was to teach the art of weaving to the folk of Strathcarron.
With him Mrs Josephine Buchan, mother of the company's founder Morris Buchan, it was Josephine's job to manage the new work place. Local wool spun by the women of Lochcarron and the surrounding parishes was used in the making of tweeds, white blankets and rugs. Woven on handlooms the products were first exhibited at the Kyle of Lochalsh Show. Ten years later Hattersley looms and yarn were sent from Galashiels and the first piece of tartan was woven in 1949 – a length of 'Crawford Tartan.
Since these humble beginnings, Lochcarron of Scotland has gone on to become the world's leading manufacturer of tartan. And we are very proud that the company still bears the name of where it all began more than 60 years ago.
Summer Opening Times

Winter Opening Times




Temporary Closure to the Public - telephone and email orders are still being taken.

Easter till end of October

Monday – Saturday 9am-5pm
Sunday - Closed

Temporary Closure to the Public - telephone and email orders still being taken.

Monday - Friday 10am-4pm
(Saturday by appoinment)

Christmas Hours

Closed from 3pm on Christmas Eve - reopen December 30th

Closed from 3 pm on 31st December - reopen January 6th 2020
For all enquires please contact our Shop Manager,
Joy Moran who will be happy to help you.
Email: joy@lochcarron.com
Lochcarron Weavers Shop
Mid Strome
Lochcarron
IV54 8YH
Telephone: 01520 722212
Email: joy@lochcarron.com

HOW TO GET HERE:
65 miles from Inverness on the A9, A832 to Garve, A890 to Lochcarron.
The shop is situated on the banks of the Loch Carron in Wester Ross, find us by heading 2 miles west out of the village of Lochcarron towards Strome.
Sat Nav Ref: IV54 8YH
CUSTOMER REVIEWS
I now have a great coat from a wonderful shop with fantastic customer service. - Cape Town, South Africa
True Highland Welcome, a cup of kindness and a traditional kilt. Could not wish for more! - Falkirk Strilingshire
We loved the beautiful tartans, and shop. a very colourful and friendly atmosphere - Nuneaton, England
Beautiful shop - we spent hours here, very friendly staff - Hakadal Norway
It was heavenly, I loved the shop, the atmosphere, the staff. thank you for giving me a memorable experience. - Arod, Israel
What a lovely shop. Came in for a look around and left wit a duffle coat! - Cotswolds, England
Such a beautiful shop. Remembered from 4 years ago. - Albany, West Australia