If you have ever been to Scotland's famous capital city, or even plan to take a trip you will be familiar with the iconic Jenners Department Store.
Jenner's is often known as the 'Harrods of the North,' sitting majestically on the infamous Princes Street in the City's Centre with its captivating history and beautiful architecture.
The History of Jenners
Kennington and Jenner
Founded in 1838 as a drapery business, Charles Jenner and Charles Kennington suitably named the establishment 'Kennington and Jenner.' Following Kennington's retirement in 1861, his name was removed from the title.
James Kennedy, a descendant of Charles Jenner, took ownership of the store in 1881 after Jenner's retirement. Continuing operations until 2005, Jenners was then sold to The House of Fraser.
Despite the classic department store facing acquisitional name changes, Jenners managed to keep its identity and reputation for tradition and excellence.
William Hamilton Beatie
Following a fire in 1892, famous Scottish architect William Hamilton Beatie designed the building you see standing today in 1893.
Having designed other iconic buildings throughout Edinburgh, such as The Balmoral, Cowan's Warehouse and the Carlton Hotel, Beatie's architectural style can be spotted in many corners of Scotland's Capital City.
Stretching into a New Era
As of 2021, The House of Fraser made the difficult decision to stop trading in the Iconic Jenners department store. Therefore, The House of Fraser's 16-year association with this building will come to an end. Despite this, the 180 years of Jenners department store will not stop there.
Nonetheless, the owner of the Victorian facade and Danish Fashion Expert Anders Holch Povslen has plans to restore and renovate. The building is set to have cafes and restaurants, with the possible addition of a hotel.
Valvona and Crolla
Lochcarron of Scotland was delighted to have been asked to design a Jenners tartan! In conjunction with the department stores Delicatessen shop, Valvona and Crolla, 2018 launched the Jenners tartan.
Using our tartan design service in 2018, our in-house designers worked closely with Valvona and Crolla to develop a tartan. Celebrating the 180th Anniversary of Jenners, the design reflects all thins Jenners. The ancient stonework of the historic building was the key element of inspiration. Completely unique to Jenners, the tartan tells their story.
Available in an array of woven accessories, take a look at the department store's stunning tartan.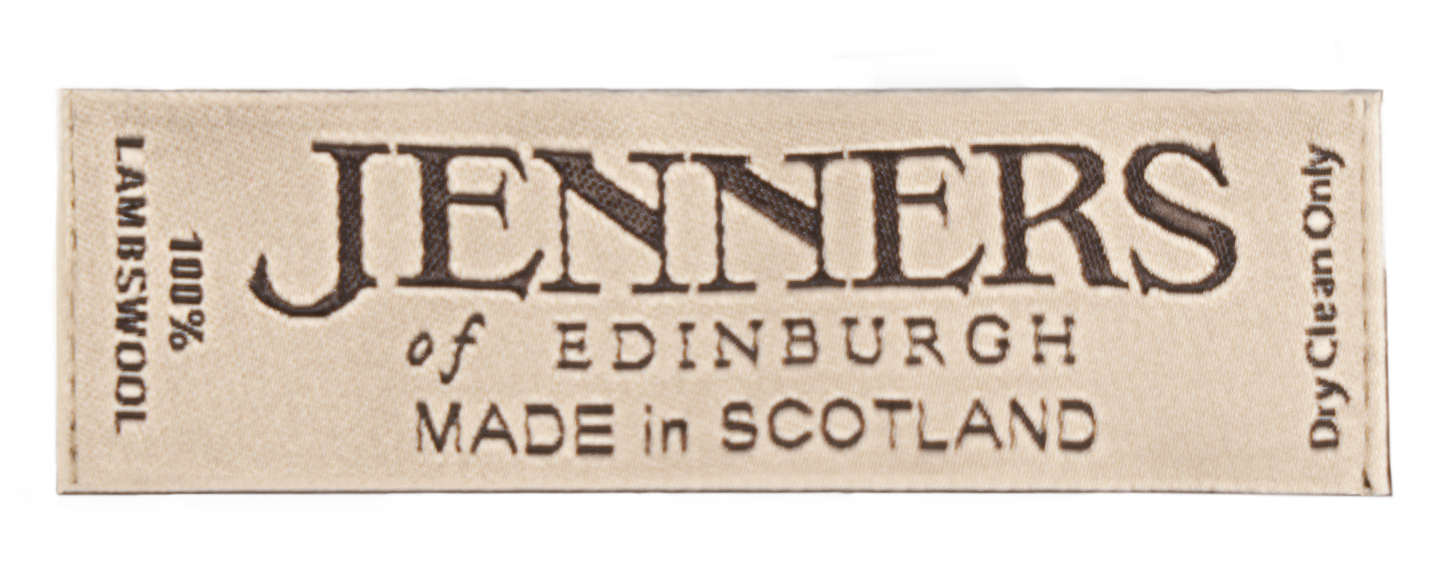 Lochcarron of Scotland's Tartan Design Service
As the world's leading manufacturer of tartan, we are passionate about the tartan we create here in the Scottish Borders. With our rich textile heritage and contemporary design knowledge, we offer a bespoke service for tartan design available to all of our customers.
Just like Jenners you can create your very own family tartan and register your place in history. Your design can be made into traditional Scottish kilts to fit those special occasions or converted into our wide range of fabric weights. 
Regardless, your tartan design will be unique to you, designed and woven at our mill in The Scottish Borders.
Edinburgh
Home to Scotland's most iconic department store, Edinburgh has a wealth of historic monuments and is a host to all things Scottish.
We have formulated a list of our favourite Edinburgh attractions. Enjoy as we bring our beautiful city to you in the comfort of your own home.
Edinburgh Castle
Edinburgh Castle looks over the city from the top of Castle Rock. Standing for over a millennium it is one of the oldest castles in the UK. Looking out from the castle, you get a bird's eye view of the city and its Gothic architecture. Scott Monument stands tall in Princes Street Gardens with the contrast of Arthurs Seat in the distance.
Scott Monument
The iconic Gothic Scott Monument is a tribute to Sir Walter Scott, 1st Baronet born in Edinburgh. The Victorian structure of Scott Monument is the centrepiece to Princes Street Gardens. In the city centre it stands 62 metres tall with viewing platforms reached by a spiral staircase.
The Royal Mile
At the heart of the tourist trade, Edinburgh's Royal Mile runs through the heart of the Old Town. The Mile hosts cobbled closes and narrow stairways that lead to a secret underground world. In between a hive of activity, souvenir shops, and classic Scottish pubs, you will find detailed medical architecture. There is also a glimpse of recent history in the Scottish Parliament Building.
Royal Botanic Garden Edinburgh
Similarly, another popular attraction, located a short walk from Edinburgh city centre is the Royal Botanic Garden. Within the 70 acres of land sits 100,000 plants and undeniably a  beautiful panoramic view of Edinburgh's skyline, it is a perfect escape from the busy city.
The National Galleries of Scotland
Lastly, close to Princes Street, the galleries sit on The Mound in central Edinburgh. The neoclassical style building opened its doors to the public in 1859 and has been acquiring paintings in 1819. Throughout the galleries, you will find work from the likes of Vincent Van-Gogh, Sir Henry Raeburn, and Joan Eardley.
At Lochcarron of Scotland, we are excited to see how Jenners develops into its new era of trading. Although your Edinburgh visits might be virtual for the time being, we cannot wait to welcome you back to Scotland's wonderful capital city.
So, until then, have a look at our ever-growing selection of tartan and accessories. 
Likewise, if you would like to find out more about our process, have a look at our Virtual Mill Tour! A great insight into the high level of care and craftsmanship put into our products.